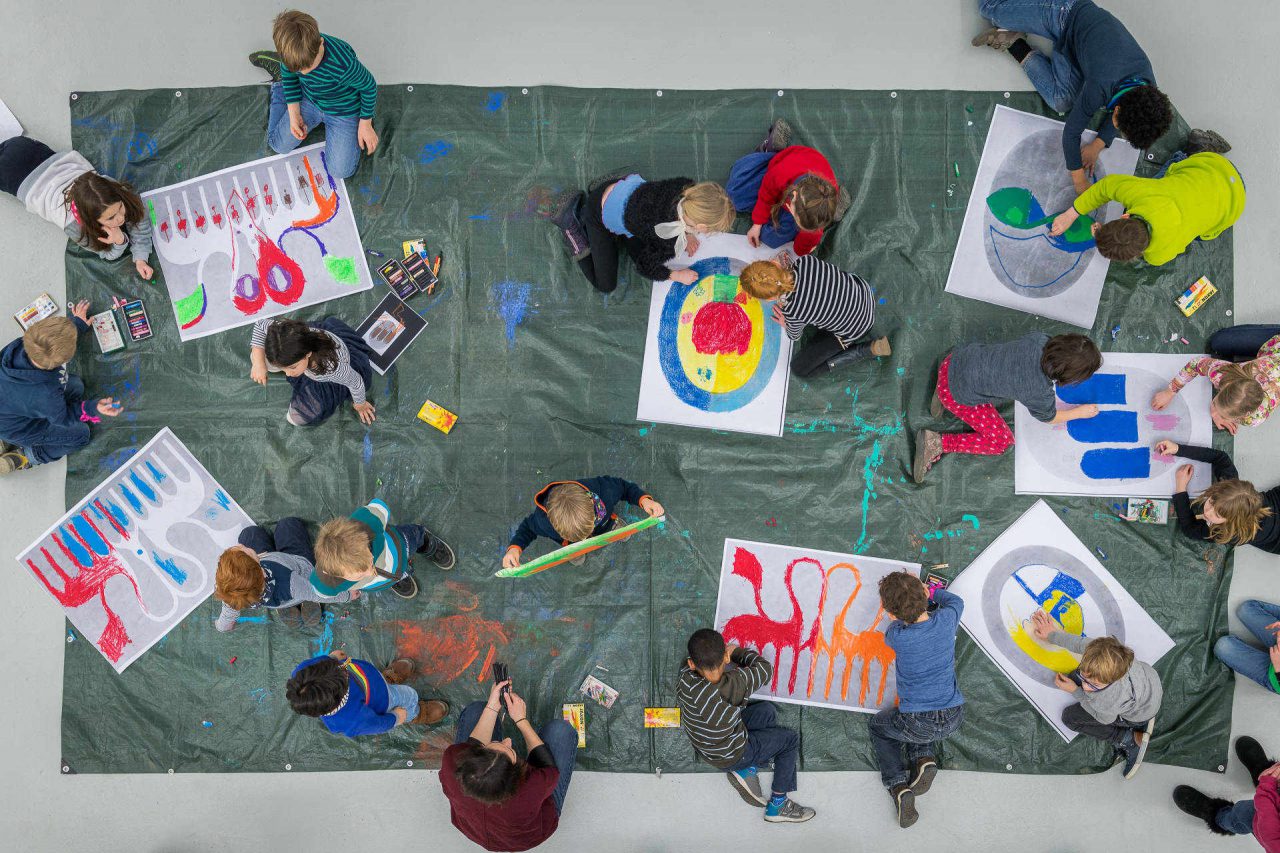 Education
Through our exhibitions and events, Kunstverein Freiburg promotes access to artistic practices and their social contexts, aiming to provide diverse methodological foundations for further examination and discussion. In doing so, we wish to actively foster artistic interpretation processes that are informedly incomplete, instead of prematurely defining the art works. Our tours, discussions, lectures and workshops do not only provide insights into artists, art works and the contemporary art scene. Above all, we create space for forming contextualisations, reflecting on social issues and backgrounds, for deepening our own observation, for exchanging different views, perceptions and thoughts.


Children's Workshops
Once per exhibition, art educator Verena Schneider runs a Sunday afternoon children's workshop for those aged between 6 and 12 years old. After an exciting journey of discovery, imagination and creativity take centre stage in experiments with colour and different materials. Using techniques used by artists in the exhibition, the children create their own art works that can be taken home at the end of the workshop. Written registration is required (via email, fax or letter).

Cost 3 €


Public Guided Tours
Free guided tours of the current exhibition take place at 7 pm on two Thursdays per exhibition. The tours provide background knowledge about the works and artists, and offer the opportunity to exchange ideas about what has been seen and experienced in the exhibition.


Private Guided Tours
A private tour enables groups, companies, seminars, school classes and guest groups to take a specially adapted tour through the exhibition, also available in English and outside of the gallery's usual opening hours. Groups that wish to explore the Kunstverein without a tour guide are also very welcome.
Written registration with sufficient notice is required (via email, fax or letter).

Cost 50 €


Guided Tours for Youth Groups and School Classes
We offer tours and workshops for youth groups, kids' clubs and school classes. We are happy to individually tailor a proposal. Written registration with sufficient notice is required (via email, fax or letter).


Workshop: German as a Foreign Language in the Exhibition Hall
The works displayed at each exhibition invite description and discussion regarding their context and content. Especially for German learners, the Kunstverein and its contemporary art exhibitions offer a unique learning environment for carrying out practical language-learning exercises outside of the class room. During the workshop, participants are encouraged to attempt descriptions of the works on display and to expand their vocabulary through guided discussion.

Cost 80 €


Kunstreport (Art Report)
Kunstreport is a yearly event were the Jugendkunstschule youth arts school at the Jugendbildungswerk youth education centre collaborates with Freiburg schools and Kunstverein Freiburg. Accompanied by artists and art-educators, students engage with the exhibitions at Kunstverein Freiburg over a longer period of time. The instant, inspiring exchanges taking place before each exhibit are as much the focal point as the artistic approaches within the practical work. The students work both on site at Kunstverein Freiburg and in the Jugendkunstschule art workshops and experiment with different techniques to get closer to the exhibitions. To conclude the project, the students' work is displayed as part of a short exhibition at Kunstverein Freiburg.


The events that form our arts engagement programme are advertised in our email newsletter, on our website, on Facebook and also in the local newspaper, The Badische Zeitung.