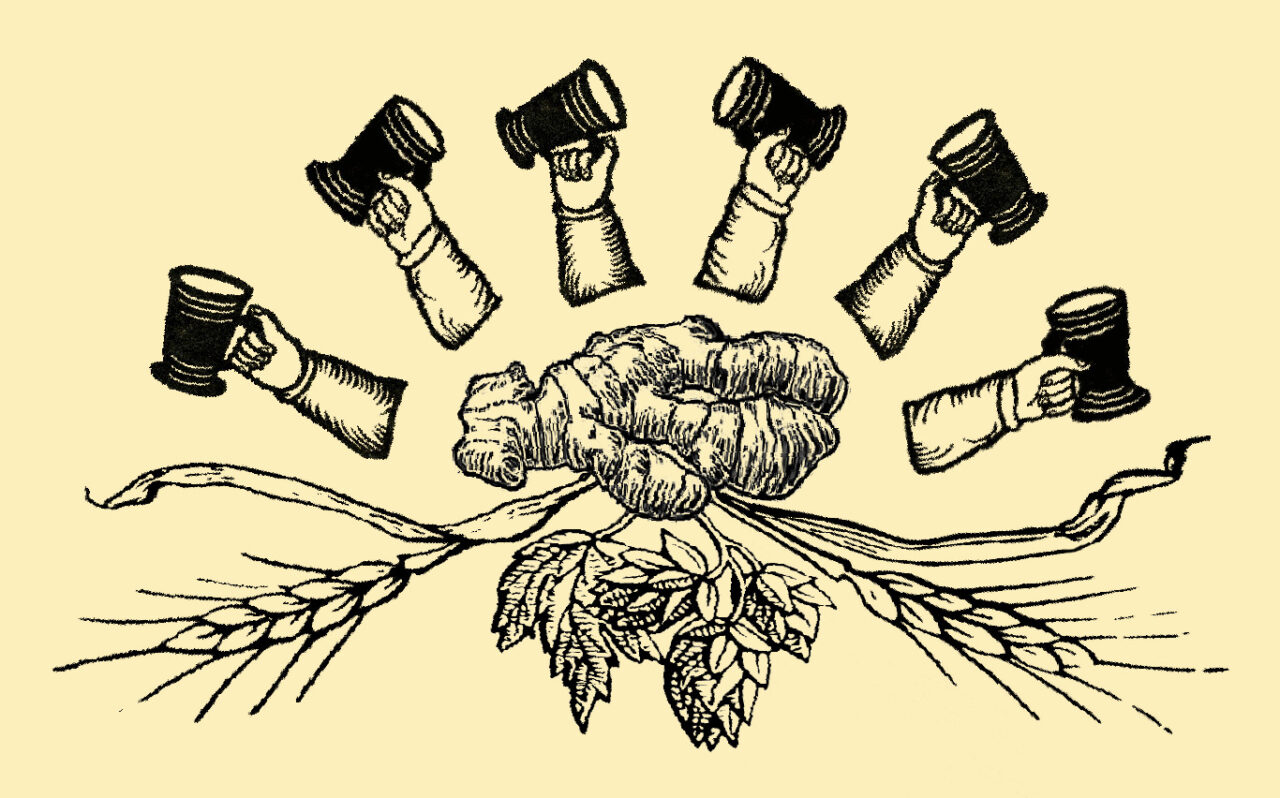 New Design Till Ten
Opening
Laurie Mlodzik
Brewsters'
Thu, 17 Mar 2022, 7 pm
The artist Laurie Mlodzik has developed the new spatial setting for the Till Ten event series at Kunstverein Freiburg. We cordially invite you to the opening of the bar on Thu, 17 Mar 2022, 7 pm at Kunstverein.
Somewhere between alehouse and witches' still room Brewsters' invokes the female past of brewing; inviting us to participate and partake in its history. The collection of objects and experiences, from the flavors to the aesthetics, pull from a long line of goddesses and mortals who were fundamental to the social lubricant, cultural fuel and societal glue that still holds us together. Through fermentation, water, diverse grains and the then still wild yeast cultures, were transformed into a valuable liquid, that beyond its use as an intoxicant served as a sustaining foodstuff and a potable drink. This mysterious foaming brew, which in many cultures was documented as an invention of, or a gift from a goddess, is honored here in its bubbling beginnings.
Brewsters' offers a space to meet, exchange, and toast to the divine, earthly and female origins of beer. Drawing past practices into the present, with a special beer brewed for the occasion we pay homage to the roots of brewing and revive our ties to the microbial world around us.
Laurie Mlodzik (*1994) lives and works as an artist and dancer in Basel. Mlodzik previously worked in Freiburg and studied art at the Hochschule für Kunst, Design und Musik, now the Macromedia Hochschule Freiburg. Since 2012, Mlodzik has been a dancer at the Isadora Duncan International Institute in New York. Most recently, she performed with her fermentations collective fffff and their performance Mother Maize as part of the exhibition Inside the Amazon at Kunsthaus Baselland and as a dancer in the collaboration to call on the birds with Sarina Scheidegger and Katrin Sigrist, shown as part of the Do The Right Thing Performance Bar at Kunstmuseum Basel.
Admission free