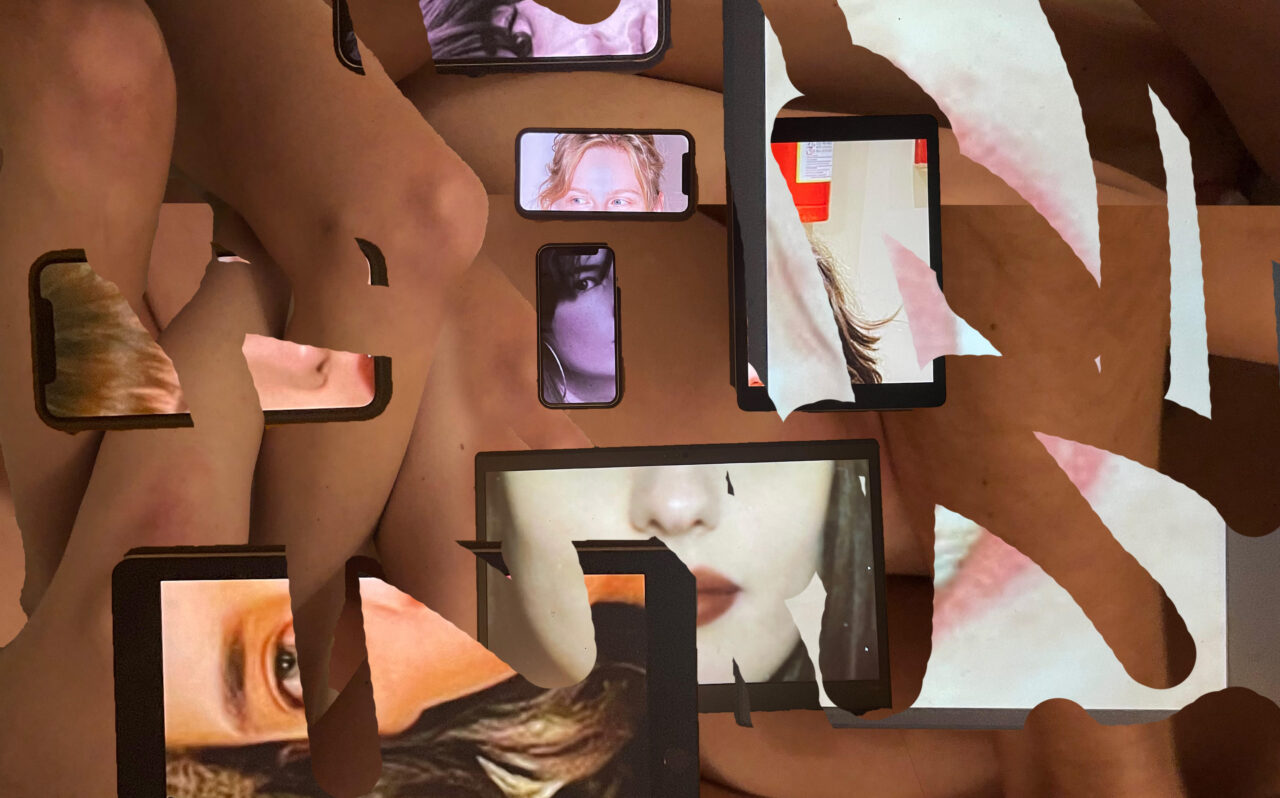 Till Ten
Catherin Schöberl, Emilymary Whitaker, Isadora Alves, Salphinah Savin
Screens*Scream*Sex
Thu, 2 Mar 2023, 7 pm
In March, performers Isadora Alves, Salphinah Savin, Catherin Schöberl, and Emilymary Whitaker will develop a performance that deals with sexuality in the digital age. Images and choreography from mainstream pornography will be juxtaposed with emancipatory, queer-feminist, and personal perspectives on bodies, sexualities, and the need for intimacy. As a prelude to their rehearsal period, the four performers will allow a glimpse behind the scenes and open a space during the Till Ten Bar that can be read as their personal interpretation of a sex education class.
With the format of a lecture performance, they invite guests to come together as pseudo-experts, make fun of Sigmund Freud together and explore feminism, bodies and digital screens, which have long since become third parties in our bedrooms and sexual lives.
Catherin Schöberl is an artist and educator. She studied art, German, education science, and art mediation at the University of Cologne and the FHNW Basel. In her practice, she is interested in breaking down the rigid boundaries between individual work and collaborative creation. She works with performative strategies, video works, and multimedia installations.
Emilymary Whitaker is an American-French health activist and biologist who currently lives and works in Basel. She is interested in expanded forms of artistic research, addresses feminist themes and translates them into video works and performances.
Isadora Alves is a Portuguese performance artist who studied acting at the Escola Superior de Teatro e Cinema and dance at the Forum Danca. Her works are mostly site-specific compositions in which light is the preferred material that she explores in a constant dialogue with time and nature.
Salphinah Savin is studying fine art at the FHNW Basel and is currently on a study abroad semester in the Site-Specific Art program at the University of Applied Arts Vienna. Savin mainly works with the media of video, installation, and performance, with which she expresses personal experiences and emotions.
In English, admission free.