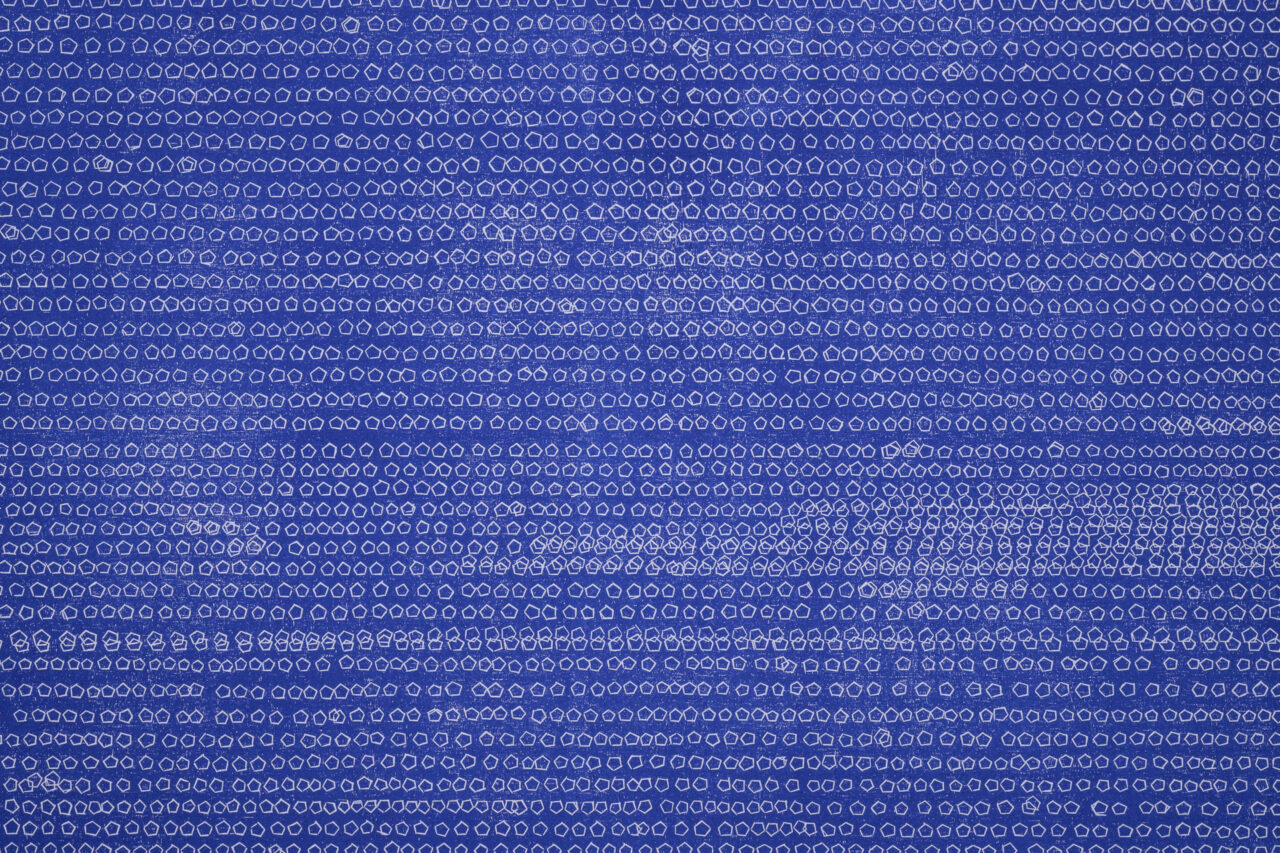 Ester Fleckner
Slow Tools
16 Sept–29 Oct 2023
How can pictorial abstraction be used as a tool for queer ways of knowing, for queer politics? Ester Fleckner mostly works in serial woodcuts. Through this timeconsuming technique, in the physical confrontation with the printing block, Fleckner enters into processes that are characterised by unpredictability, errors, and loss of control. Instead of following a linear, result-oriented approach, Fleckner works with repetitions, revisions and transgressions.
In their exhibition Slow Tools, Fleckner presents earlier works including sculptures together with new printworks in the ongoing series Woodbeds, brimming. Whilst geometry describes bodies and spaces with mathematical precision, Fleckner cuts and moulds simple geometric shapes allowing moods, rhythms and collisions to emerge. In Woodbeds, brimming composititions are formatted like texts or code, arranged into lines that stagger, vibrate and layer – some characters even fall outside the frame. Fleckner's alternative language of shapes indexes bodies, spaces and distances, while engaging in a dialogue with conventional language systems, as an invitation to read, write, think and feel differently. Fleckner suggests that the prints can be thought of as text portraits. Poems. And beds.
Slow Tools is Fleckner's first institutional solo exhibition in Germany.
The exhibition is supported by:
Grosserer L. F. Foghts Fond

Image: Ester Fleckner, Woodbeds, brimming (turn), 2023, (Detail), Photo: Marc Doradzillo. Courtesy the artist and Galerie Barbara Wien, Berlin.
Programme
Fri, 15 Sept 2023, 7 pm
Opening Night with an Introduction by Heinrich Dietz
Sat, 16 Sept 2023, 4 pm
Exhibition Walk with Ester Fleckner and Heinrich Dietz
Thu, 28 Sept 2023, 7 pm
Guided Tour with Marilena Raufeisen
Thu, 12 Oct 2023, 7 pm
Curator's Tour with Heinrich Dietz
Sat, 14 Oct 2023, 4 pm
Queer Abstraction
Lecture by Lex Morgan Lancaster and Talk with Ester Fleckner
(online, registration required)
Mon, 16 Oct 2023, 7.30 pm
Film Screening
Blue (Derek Jarman, 1993)
Location: Kommunales Kino Freiburg
Sun, 22 Oct 2023, 2–4 pm
Workshop for Children 6–12 years
Printing Workshop with Buchkinder Freiburg e.V.
(registration required)
Thu, 26 Oct 2023, 7 pm
Queer Poetry and its Aesthetic Strategies
Reading and Talk with Noah Anderson and Kevin Junk